It was an interesting assessment at BUCR with Jodie Bett and Jon Parish, both experienced instructors with a good log of assisted teaching sessions and personal climbing.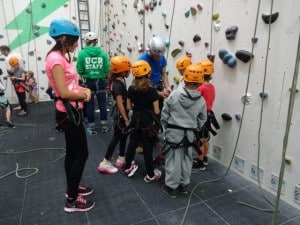 It was a crammed day and after a brief introduction to the course the candidates were introducing themselves to a group of youngsters and coaching a bouldering coaching session. This was followed by more 'live groups' with sessions ranging from 1 to 1.5 hours. Jon led a Family taster group and Jodie led Rock hoppers week 3.
Jon was extremely professional, he engaged the group from the off. The pace was excellent and his delivery, communication and management skills were appropriate to the group. He seemed to rise to the occasion, seemed very at ease with the environment and his group and was always in a position to maintain their safety. He used the 'bell ringing' belay technique which was perfect for this novice group.
Jodie struggled to take ownership of her group, and seemed hesitant to take control, relying on the BUCR instructor to take the lead. There were glimpses of a more confident Jodie but unfortunately she was deferred on this section of the assessment. As a National Award, the CWA instructor should be able to walk into any climbing centre and run a climbing session with confidence and assurity. With a little more experience at different centres Jodie will be able to return to complete her Award by running and managing a 'live group'.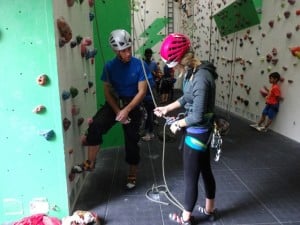 The assessment programme also gave them the opportunity to demonstrate their personal climbing skills; bottom rope belaying as well as lead climbing and belaying. They both performed well and were confident and efficient. They also had to 'solve' common and unusual instructor problems like detachment, hair caught in the belay device and a frozen climber. Both did well, Jon in particular demonstrated a depth of knowledge and excellent practical skills.
The assessment also involves a home paper, which is basically a demonstration of research skills rather than knowledge and is an opportunity for candidates to broaden their knowledge of indoor climbing. Candidates are also expected to produce a 5 minute talk about an aspect of indoor climbing. This could be any topic from nutrition to training. It is not a deciding factor in the assessment but it does demonstrate how much effort the candidate has put into their preparation and how much they value the Award.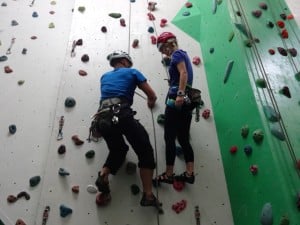 Top tips for candidates:
Ensure you have enough experience, not the bare minimum.
Visit as many climbing centres as possible to broaden your horizons and sample different teaching styles.
Prepare your talk, make it interesting and enjoyable. Practice so you don't have to stare at your notes all the time. Add visuals or pictures or props.
Try and assist as many different types of groups at as many centres as possible so there is no chance of you being just a site specific instructor.
Contact the centre before your assessment to find out their working practices and procedures.
If you are unsure of anything ASK. Take responsibility for your assessment rather than make excuses when you are deferred for lack of preparation and experience.
I am always available to answer any questions and offer any help to candidates.
Ali Taylor. MIA. CWA & CWLA Provider