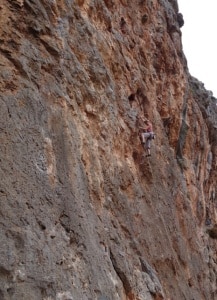 The last time I was in Greece my children were very small and I hadn't started climbing. I arrived in Kos to torrential rain, thundering and lightening and thought 'this was a mistake'. A taxi to the port followed by a ferry, took me to Kalymnos and waiting for me on the dock my friend Mick. It had stopped raining.
Kalymnos is a sport climbing Mecca and being a trad climber I wasn't sure how I would cope with redpointing, stick clipping and conversations about grades. I've done my time redpointing and wasn't too enamoured with it then, but Kalymnos had a variety of styles and crags to choose from. I was pleasantly surprised. Having recently suffered a broken ankle I took it quite easy to start with, monitoring the swelling as it went up and then down. Fortunately I met Helen Gardiner who was also recovering from a tendon injury in her right arm, so we were able to play gently together.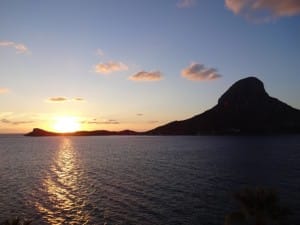 We visited Kastri, Skalia Pillar, Arginonta, Prophitis Andreas, Arhi and Styx and managed to lead a number of very good routes, some of them 40m long. The highlight of the trip for me was meeting Helen and Frank Thompson and onsighting some 6b's. Wild Sex at Arginonta and Philotimia both being steep and juggy putting less pressure on my foot.
It's a pretty cool place to climb with cheap taxis – if you share, cheap ferries – if you go by foot, and plenty of cheap accommodation and food, although as everywhere on the planet some places are better than others.
If you would like more detailed information about Kalymnos or wish to book a holiday with monsterclimbs don't hesitate to contact me via the contact form. [contact-form][contact-field label='Name' type='name' required='1'/][contact-field label='Email' type='email' required='1'/][contact-field label='Website' type='url'/][contact-field label='Comment' type='textarea' required='1'/][/contact-form]