Ali ran the two day CWA training course at UCR with 5 very different candidates – Jenny(17) an experienced youth squad climber, Beth(19), very new to climbing having recently begun working at UWE wall, but what she lacked in experience she made up for in enthusiasm, Jim(26) with limited personal climbing experience but lots of coaching experience, Gillian(52), a relatively new climber, but enthusiastic and already working at a climbing centre in Devon and Matt(35) an Australian with lots of experience with Scout groups. Both the guys were over 6′ 2″ and all 3 women were under 5′ 2″!!!!
The first day was based at BUCR where they looked at the climbing wall environment,  PPE, their own personal climbing and belaying including leading, warming-up and managing groups.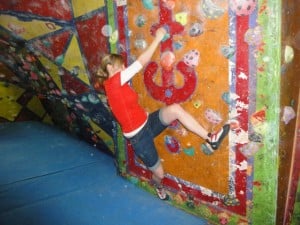 The second day looked at coaching principles, centre of gravity, balance, footwork, using momentum, twisting and straight arm techniques. Candidates were able to practice techniques and then look at different climbing games to implement them. Twenty five percent of the course is devoted to movement skills and it is recommended that CWA candidates complete the BMC Fundamentals coaching workshop to enhance their skills to become more rounded and inspirational instructors.
The afternoon was spent at UWE Wall where the candidates had the opportunity to work on simple problem solving techniques, for example a stuck climber or a pulled rope.
The day ended with a group debrief and lots of questions. The candidates left inspired and motivated to put all they had learnt into practice and to visit as many centres as possible and work with different groups and  different styles of instruction.