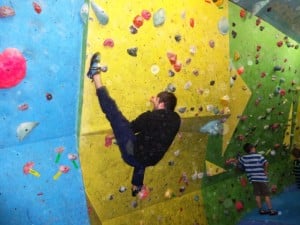 It was a privilege to run the Climbing Wall Award Training Course 17th -18th January 2015 with the 5 young climbers ranging from 17 –  23. Probably the nicest group of budding Instructors I've ever met – Ollie Chamberlain, Emily Campbell, Tom Holman, Callum Nicklin and Jason Hargreave. They all had very different and interesting backgrounds with varying degrees of climbing experience and they were interested, motivated and intelligent.
As their instructing experience was quite limited I didn't want the course to be completely Instructor directed, so I encouraged the candidates to come up with ideas setting parameters, and problems to solve using scenarios and equipment. They delivered practical solutions every time.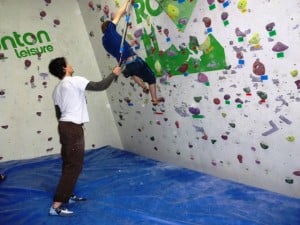 As the course progressed they became more confident to suggest ideas and lead sections, and developed their knowledge and technical ability. They learnt that an answer/suggestion is never wrong and that instructors shouldn't have set ideas in mind when setting tasks and should develop the ability to adapt sessions and follow interesting ideas. Often a candidate/client can suggest an idea and it snowballs and develops within the group. It all adds to the toolbox of instructors and clients alike. And, of course, the more ideas that evolve the more rounded and inspiring an instructor will become.
The problem solving session is always the most fun part of the course where we spend a couple of hours at the University of West England Climbing Wall, looking at scenarios and coming up with solutions. Prevention is, of course, better than cure, but once something has happened Instructors need to know how to deal with situations in a safe, efficient and professional manner.
I always come away from CWA Training Courses having learnt new ideas and seen amazing  and exciting potential. This course, in particular was inspiring as I saw a group of people who questioned constantly, gave everything great thought and consideration, wanting to give the best of themselves and become excellent Instructors. The temperature at UCR was at best chilly most of the time but I came away feeling warm and happy.
'I really had a fantastic time on the course and you are a great instructor and guide. I'll be sure to recommend you to those interested and would love to do some trad in the future after I have my CWA (hopefully!).' Callum Nicklin