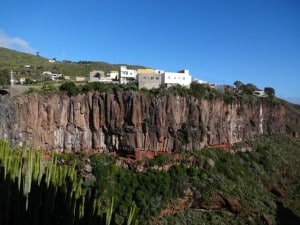 After consulting my Climbing Diaries I discoverd that the last time I climbed in Tenerife was December 1999 when I was married to Malc. This time I went with a group of friends, purely for pleasure or as I like to tell the tax man – TRAINING. Gordo Jenkins, Ray and Sheila, Frank Thompson and Lorne Brown were my amigios but I climbed mostly with my buddy Mick Green, who is always good natured and great fun.
Tenerife is not really for the novice sport climber, the grades are generally quite stiff, many of the bolts are quite spaced and the first bolt is invaraiably half way up the crag. Stick clips were in abundance and to be honest I did use one a couple of times, having recovered from a broken ankle in August I didn't want to take any chances.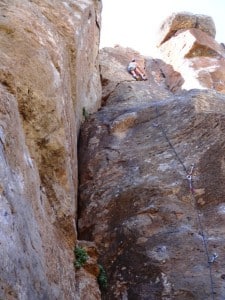 We climbed at Tabares, which was an incredibly beautiful and wild place, but was a crag of 2 halves. One small section had been given over to top roping and was polished to hell whilst the rest was undeveleoped and difficult to access although we did do a couple of good if friable routes.
El Rio, was a local crag to our accomodation and there was lots to do, but being a bit of a suntrap it became unbearable in the heat – one for a cooler day. Mick and I visited Guaria twice, which was awesome and repeated a route of the trip in 1999 – El Podesdel Invasor , big and steep and beautiful.
The crater of El Teide gave some surprisingly good routes and we bagged a few 6b and 6b+'s in the cooler mountain air. Our favourite crag was Arico Abajo, which had sun and shade, where you could probably spend several days and slowly work your way up the grades. My favourite route of the trip Superlopez at 6c – I was the only one to flash it due to my use of a one finger pocket. Ouch!!! Good job it was the last day.
We finished the trip in good style by eating out at a local restaurant near El Rio with amazing ambience and gorgeous food. Gordo and Lorne managed to order AND drink the biggest Gin & Tonic ever!!!