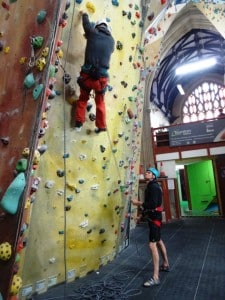 Another successful course at UCR Bristol. The candidates Pete Marsh, Johan Cilliers and Jon Renshaw were experienced instructors who were confident and competent leaders. There was a lot of shared knowledge, much discussion and lots of practical activity.
The course included how and when to introduce lead climbing to clients, depending on technique and physical and mental strength. Bottom rope techniques including down climbing to promote lead belaying, trailing ropes to develop clipping without the fear of leading and mock leading with two ropes – a lead rope and bottom rope.
Lead climbing is quite an easy skill to develop once you get the hang of clipping with one hand, and keeping the weight on your feet, but lead belaying is more of an art and takes many years of experience to become an expert, and even when you become an expert you should always be dilligent and concentrate on what you are doing.
The part of the course people seem to enjoy the most is building up to taking and belaying a fall. Johan and Jon thought it was fabulous. Using the M system on a large overhang, belaying on 2 bottom ropes, the belayers take in until the climber reaches the 5th clip. The climber continues to climb, and then drops off into space when he/she feels comfortable to fall. Usually both belayers are lifted off the ground.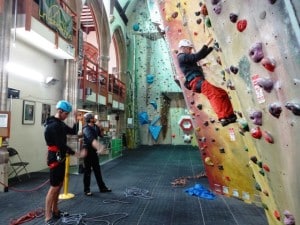 Pete wasn't quite as keen, not being such an experienced climber, but was determined to throw himself into it, which he did with some trepidation. Once he'd done the deed he was relieved and happy to be back safely on the ground. It is a good learning experience as it is much easier to empathise with clients facing falling for the first time. Children are usually just the opposite and seeem to have no fear which can sometimes be a different problem.
The day finished with lead climbing falls, with varying amounts of slack – the worst scenario being falling as your just about to clip. There is no reason why anyone should take a big fall indoors. Belayers must always communicate with the leader and the leader must always clip all the bolts. Missing out clips when your too pumped to clip is an accident waiting to happen.
Pete, Johan and Jon will become excellent CWLA instructors. Well done guys – a pleasure working with you. Ali Taylor – Director Monsterclimbs