It was a great privilege to be selected as a host for this years Summer meet in Snowdonia. There were 32 hosts and 32 guests from 22 different countries. It was a very friendly and inclusive meet with a great atmosphere with communal eating morning and evening. There were presentations from hosts and guests with some stunning photography.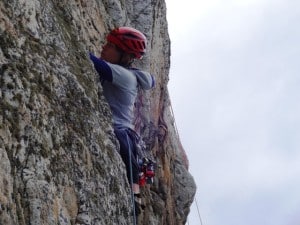 On arrival the weather was typically North Wales – strong winds and heavy rains so our first venue was…. Tremadog along with most of the others so there were actually queues on some routes. My first guest was Laura Bledaite from Lithuania. All the first pitches were wet but we managed Scratch VS 4b as our warm up route, and the second pitch was actually dry. Very cold and windy on the belays. We then moved on to Meschach which was wet in patches and added to the delicacy of the route. Laura did a fine ascent of the 2nd pitch as the crux was soaked.
The weather was much better on the second day and we headed to Gogarth on Anglesey. A team ascent of Gogarth E15b with Mick Green and Vytautas Mazeika. It was sunny, windy and dry and we stormed up it. We headed over to Hollyhead Mountain where Laura led Bran Flake E25b and I led King Bee Cracks HVS 5a – both excellent routes.
I got a new partner on Day 3 Maria Pilarski who was on the German Alpine team and she was solid as a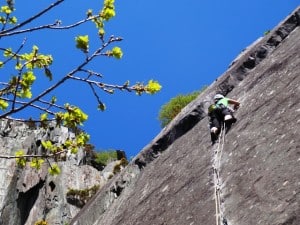 rock. We headed to Llanberis slate where Maria stated she was loathe to fall on gear so we did a bit of training with gear placements. She led Bella Lugosi is dead E1 5b and sat, then fell on several bits of gear. I led it too, then gave Maria the reins to lead Pull my Daisy E2 5c and Comes the Dervish E3 5c both routes  with big run outs. So although she didn't like falling on gear she was happy to lead well above it!! An amazing day.
The rest of the meet went on without me as I had courses to run and training to do. Hopefully I'll be back in a couple of years for more.