An interesting mix of candidates in this weekend long course – 2 older women – a student and a teacher, and 2 young men – both students. The most experienced climber was the youngest of the 2 men – Petar, and the keenest to learn with the most potential as an Instructor – the teacher Julia.
They were all motivated to become good instructors and coaches and particularly enjoyed the movement coaching sessions. They loved the obstacle course traverse and saw the potential for all areas of climbing technique. This took place in the overhanging section of the bouldering area as a group of children occupied the main area which meant it was particularly challenging. The use of straight arms, balance, body position and resting was essential to complete the task.
Ali had been on a Provider Workshop the previous day where Course Directors were asked how they would approach the 3 core features of climbing – Agility, Balance and Co-ordination. Everyone agreed to disagree that Agility was not a core feature. Ali put this to the CWA candidates and they totally disagreed too preferring power and/or flexibility. Agility is certainly not a feature Ali would associate with climbing as it is the ability to change direction at speed!!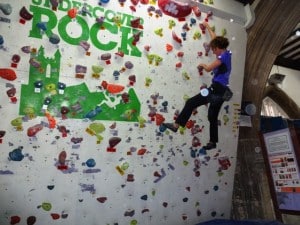 The 2 day course covered group management, climbing centre distractions, different instructional styles as well as problem solving issues. There were also plenty of opportunities to become involved practically in personal climbing – bottom roping and leading, rigging set-ups for groups and coaching climbing technique. An excellent course made so by the quality and motivation of the candidates.