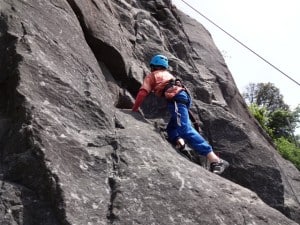 The boys arrived in various states of excitement. Raf, the birthday boy couldn't wait to get going. Rich Smith, Head of Religious Studies at Bristol Grammar School and BGS climbing coach had recommended Monsterclimbs for this event.
Rich and Ali arrived early to set up the top ropes and get in a few sneaky climbs in the process. The routes were quite tough to lead even though they were in the lower grades – polished to a high glass sheen.
The boys were kitted up with harnesses, helmets and individual climbing shoes – easier routes at Avon are notoriously slippy, so every advantage counts.
Some were keener than others, having been coached by Rich and others completely new to climbing, but it was the first time for everyone on real rock and all got involved and challenged themselves, the majority getting to the top of the routes.
The weather stayed fine and warm all afternoon. There was lots of encouragement and support and a little extra tightness in the rope over the difficult bits for some. Karen and Anthony – Raf's parents – were on hand with snacks and water to keep everyone going, as well as Iggy's parents. Tomasz, Karen and Anthony were itching to have a go so once the children had worn themselves out Karen was first on the rock, followed by Tomasz and Anthony. Anthony slipped off the start but all he hurt was his pride – apparently!!!
All too soon the climbing party came to it's natural end but everyone helped to sort the gear and carry it to Ali's car with lots of thanks and promises of more days to come. All in all a great day and extremely rewarding work.