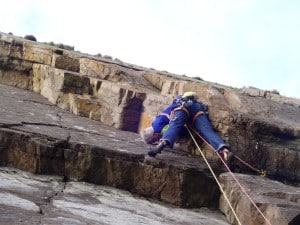 The last time I saw Phil Dowthwaite IFMGA I was leading a couple of his students on Tryfan practicing for my Mountain Day. He'd been one of my Instructors at Plas Y Brenin on my MIA Training. We bumped into each other up in Great Longstone at a Provider Workshop run by Mark Walker – it was great to catch up. Phil suggested we went climbing together – I jumped at the chance and a week later we were heading for Cornwall in his charabanc.
We arrived at Baggy Point a bit late in the day but managed to do a 3 pitch HVS 5b – Midnight Cowboy. I got the crux pitch which was delicate slab climbing and I had to do a bum shuffle over a drop from one slab to another on the crux move. Phil was very patient as I faffed about trying to work out the crux move.
We finished the day with an amazing corner – Doors of Perception E15b which Phil led with panache. He said he faffed but the gear was difficult to find and you were often out of balance – apparently I cruised it. Praise indeed!
We had an amazing supper in a lay-by in the dark with chilled beer. Perfect.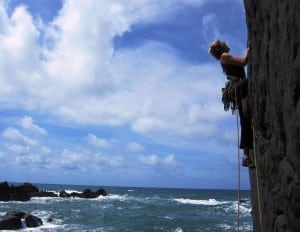 The next 3 days we climbed at Lower Sharpnose. The tides weren't brilliant so we had lazy mornings but the climbing was worth waiting for – steep, intricate and absorbing, with opportunities to shake out and tons of gear if you could hang on long enough to place it.
Misery Goat E2 5b was a great route. Phil had to take a hanging belay as the tide turned and the belay boulder was soon engulfed by the sea. The trad climbing in Cornwall was incredible and just kept letting you in, with an amazing sequence on the crux. Phil emitted the occasional high pitched squeal as waves threatened to wash over him.
It is such a beautiful place to climb. The walk-in is picturesque and not too long. The easiest route is El 5a and you need a bit of stamina to keep going especially as the crux is the finishing crack. You need to ab in and be aware of the tides. If you go round to the Middle Fin there is a chance you could get cut off. Many people seem to set up the ab over the loose ground at the back of the crag but it is much better to ab down the face over clean rock so as not to knock rocks on climbers below.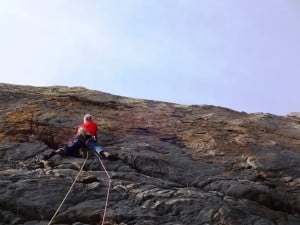 Phil was in his element at Lower Sharpnose, it was like watching a child in a sweet shop he was so excited by the climbing. From the ground many of the routes look very similar but it isn't until you actually get on the routes that you have to route find, discovering awesome holds and moves. Small footholds are plentiful so a technical climber would have a field day.
We did most of the routes on the North Fin, but we would happily return and do them all again as it was such a fantastic crag and so atmospheric…….and then there's the Middle Fin waiting and standing proud.