The CWLA is the prestigious National Governing Body Award for indoor instruction. It empowers an instructor to teach lead climbing on any suitable artificial structure in the UK. The assessment takes place over a day and comprises of demonstration of personal climbing 6a and above, falling and holding falls, teaching and managing a live group, problem solving and development of movement skills.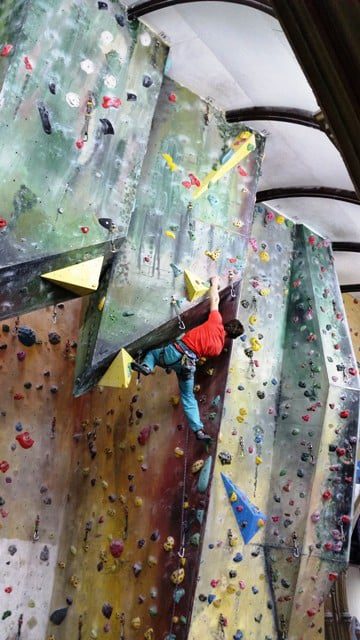 The two candidates Max Ayrton and Paul Southgate were both experienced climbers and instructors. Max, a young indoor climber had been climbing and instructing, mainly indoors for 6 years, and was a solid candidate throughout the day. Meticulous instruction with lots of Q and A.
Paul was the more experienced climber – indoor, outdoor – sport, trad and alpine with many years instructional experience but still nervous doing his assessment.
They were pretty much in at the deep end as within the hour they were both teaching a live group of small children to lead climb. All went well and both candidates began to lose exam nerves and do what they love and do best – inspire and develop new lead climbers.
It was a packed day, with hardly a moments pause. There were opportunities for training and discussion points and was enjoyed by everyone involved especially as they both passed.
At one point I had to leave my candidates to stop a young man teaching his girlfriend to lead belay for the first time as he was about to lead – it was OK though as they had been practicing at home in the front room!