Tom and particularly Josh Pettigrew have become addicted to trad climbing. Josh especially loves multi-pitch. They haven't climbed much this year as Josh has had exams to prepare for and sit. They also had an 'incident' at The Roaches earlier in the year that dented Josh's confidence. He decided to try a nice looking VS, but didn't look too closely at the protection and once on the route he realised there was very little. The last move onto a ledge was unprotected and a bit of a technical mantle. He couldn't go up and he couldn't go down and there was no gear to rest on.
The only solution was for Josh to hold tight, untie and drop the rope whilst Tom ran round to the top, set up a belay and lower a rope to bring Josh up. It was a close shave and knocked the wind out of his sails. As Josh admitted to himself and to me – he got too cocky!
So….a weekend in the Peak District with Ali was the key to regain Josh's MOJO. The Roaches was the first crag on the agenda and Josh led Left Hand Route S 4b – a cheeky little route with lots of gear but some typical gritstone moves. He'd done it before and hadn't enjoyed it – but found it challenging and great fun. He set up a good solid belay and used a Petzl Reverso to bring Tom up.
They only managed one other route (as the weather closed in), Fern Crack S 4b, and both led it, Josh put in the gear and looked very comfortable on the overhanging crack. Tom followed on Josh's gear but was unable to commit to the moves until the gear was clipped above him. As always Ali was by his side on an ab rope encouraging and supporting. It began to drizzle and when Tom realized he wasn't going to allowed to retreat he just got on with it and soon reached the top. Josh had to follow a very wet route and found it desperate – a belly flop onto the ledge was the hysterical highlight for us watching from above.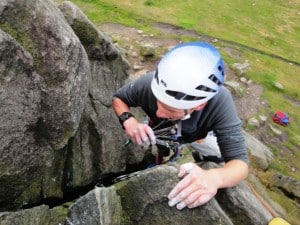 It rained overnight so Windgather was the obvious choice for the start of the day. Tom was determined to lead on his own gear and once he'd warmed up by leading a route on Josh's gear, he led 2 routes independently.
The crag started to get busier and busier as the day progressed and suddenly Josh declared 'let's go' and Hen Cloud and the amazing K2 – S 4b was the route of choice.
Josh led both pitches in incredible style and it was obvious his confidence had returned. His gear is always good and his technique continues to develop. He has a better understanding of grades and a greater respect for the rock – sometimes it lets you in and sometimes it tries to kick you off but the more experience and respect you have the more likely it is to let you in.
An amazing weekend with 2 incredible young men; brilliant climbing, fabulous fun, beautiful accommodation at Auntie Jo's, delicious food at The Lazy Trout and great company.