It's always a bonus when you meet 3 strangers and they bond with each other and with you as their Instructor. I met Steve, Martin and Helen at Symonds Yat, the venue for our trad lead course and there was immediate rapport and genuine warmth.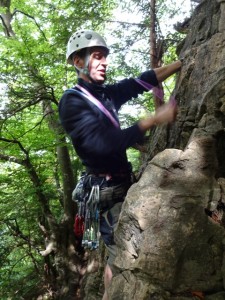 We spent the first day looking at gear, placing it, extracting it, building belays and mock leading/belaying using a single rope. It was delightful to see Steve's look of amazement at how efficient and versatile he found cams to be. They all enjoyed learning about gear and placing it. They became quite adept at finding unusual placements and were intrigued how camp nuts could be used by spooning them – innuendos ensued!
Everyone had the opportunity to lead and did so with Ali on an ab rope next to them encouraging and supporting their ascent.
The second day concentrated on all of the above using double or half ropes. Belaying with double ropes took some getting used to, paying out with one rope and taking in with the other but they found leading on double ropes more efficient and logical, often able to place gear on alternate ropes.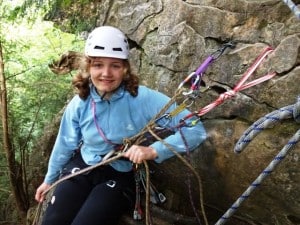 Creating belays using both ropes and clove hitches also proved easier to equalize and setting up abseils by simply tying the ends around a tree using an overhand knot was simplicity itself. Steve wasn't so comfortable with a single overhand knot so an alternative is to add a second overhand knot. As long as the tails are long and the knot is dressed the overhand knot is an excellent choice for tying the ends together as when the rope is pulled down the overhand knot rarely gets caught going over edges.
By the end of the 2 day course the three little pigs – named mainly because Ali was the big bad WOLF, had been amazed by how much they had learnt and how confident they felt to go climbing independently and to feel safe doing so.
'I had a really great weekend and I learned so much about climbing in a short time, you are a really brilliant instructor and a down to earth, funny person and if I ever need to get a climbing instructor again monsterclimbs will be the first place I look.' Helen Lodwick
'Ali – thanks for the weekend, given me a boost/push. Lots to think about – kit, technique, standards, safety, attitude, also excellent company. Good to be tutored by someone with so much experience.' Steve Joliffe
'Thank you all for a fantastic weekend! Ali thank you for your expert instruction.' Martin Hill