It really is a privilege doing Ali's job – meeting interesting people and teaching them to become independent climbers – and this course was no exception.
Alfonso and his son Paolo had no experience of trad lead climbing but had done a little bit of sport and some snow and ice climbing. They took advantage of the B & B facilities offered at Abbey Mill and Ali first met them when they arrived Saturday morning to drop off their kit in the room they would be using for 2 days.
Ali was chauffeured in style to the venue chatting all the way about gear, belaying, ropes, places they had been and their experiences so far.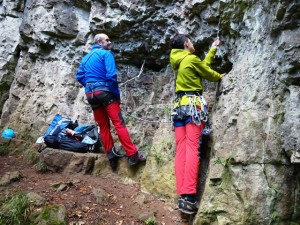 The day began by looking at gear placements and giving Alfonso & Paolo opportunities to become familiar with placing gear and recognising a 'bomb proof' placement. They then led and belayed at ground level using a single rope – this ensures they get used to placing gear one handed but without any risk of injury, building confidence and experience.
By early afternoon the trio moved to the Upper Tier of Waterpipe Bay and began to lead belay and lead climb for real. Ali led the routes first, set up an abseil and was beside them all the way. The routes were of an easy grade and gradient to begin with, with good footholds and positive handholds. Both seemed comfortable in this new and challenging environment. They each set up belays and brought the second up before setting up an abseil and learning how to safeguard the descent.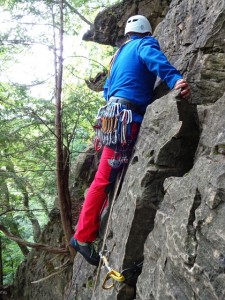 Day 2 concentrated on double ropes which they found easier to lead on but harder to lead belay – often paying out on one rope and taking in on the other which took some getting used to. The most important thing is not letting go of the dead rope under any circumstances.
They also found setting up belays easier as you can clip separate gear using each of the ropes and equalizing the anchors far more straight forward.
Similarly setting up the abseil meant simply tying the two bottom ends together and throwing the top ends down the cliff. You must, however make yourself safe before you untie from the rope even if you find yourself on a comfortable ledge. It was safe to say that on the whole double ropes were a far more convenient method for trad lead climbing but the lead belaying needed further practice for them both to feel confident.
The final challenge was to lead Golden Fleece which they both ascended with determination, good gear and skillful footwork. Both Alfonso & Paolo were ecstatic with all they had achieved.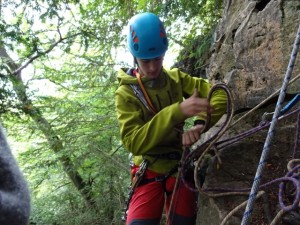 Alfonso & Paolo gained so much from their weekend course and looked forward to selecting and buying their first shiny trad rack – especially cams.
'Thank you for the patience, support and great teaching we received. We had a fantastic experience and learned a lot from you. We'll keep in touch' Alfonso & Paolo Cayon