I am a Course Director for the CWA & CWLA at Under Cover Rock in Bristol. I try to prepare candidates during training for what is expected at assessment by covering as much of the syllabus as possible and giving them a copy of the 'tick list' that used to be in the back of the original paper copy of logbooks, and by encouraging them to do more than the bear minimum and work to be the best Instructor they can be.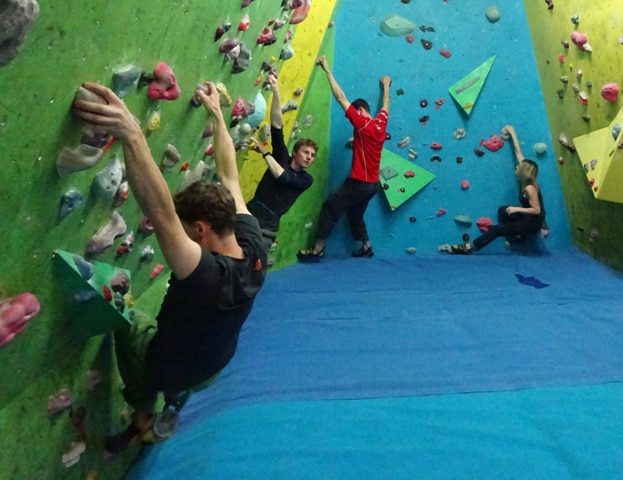 I assessed 4 candidates on Saturday 7th November at UCR and during assessment they were given opportunities to show their expertise and experience. They were assessed on their personal climbing, coaching ability, managing a group (always a live group at UCR), problem solving and  awareness of centre hazards and procedures. I didn't expect the candidates to know everything and the day is always an opportunity for them to learn from each other and myself, to be questioned and to ask questions. The day is designed towards a positive outcome by giving opportunities to shine and rectify mistakes or misunderstandings.
All 4 of the candidates passed – Jason Clarke, Alex Manaton, James Beedall and Alex Tubb. They all had their individual strengths and weaknesses, but overall they were sound , safe instructors with great potential.
To help prepare for your assessment you should:
Ensure that you do more than the minimum requirement of assisted sessions to develop your toolbox of styles of delivery and practical knowledge.
Visit climbing centres outside your local area – in other words get out of your comfort zone. There is a potential for some candidates to be almost site specific in their delivery with limited experience.
Personally climb as much as possible and at as many climbing centres as possible – and observe climbers around you noting potential risks and watch how other instructors work with groups.
Assist/observe a variety of groups – birthday parties, taster sessions, children and adult instructed groups, first steps etc. at as many different centres as possible so you can compare deliver of style and content and also centre protocol.
Before you book your assessment ask yourself 'Am I ready?' Could I run a session at any centre with any type of age group? Think of possible scenarios. If there are gaps in your experience – rectify it.
Once you have booked your assessment it is up to you to find out what type of 'live group' you are likely to encounter on your assessment, the likely ratios of instructor to client, the procedures followed at that particular centre – especially for groups like birthday parties. Forewarned is forearmed.
If you have any questions before your assessment seek out the answers before you arrive so you can prepare in advance.
Once you have been allocated your 'live group' question the instructor who will be observing you teach the group. It may be an idea to have a list of questions beforehand as assessment nerves can kick in and your mind can go blank.
Once you are instructing your group be ready to adapt the session or go off in a different direction if necessary.
Come prepared with an 'interesting' 5 minute talk that is going to engage the assessor and possible inspire. Winging it on the spot rarely goes well. Having props that you have obviously prepared in advance shows dedication and planning. And make sure it is 5 minutes!!!
And finally try and do the BMC Fundamentals course before you book your assessment – it will help with coaching and confidence.
If you have any questions, would like further information or would like to book a half day 'Am I ready for Assessment course' please contact Ali via alikat65650@hotmail.com