I've been a Pinnacle club member for a couple of years now. The format to apply for membership is;
to be female,
to be completely independent on multi pitch trad routes of any grade,
to attend at least 4 meets and climb with as many members as possible'
to complete the application form which is then presented to the committee for approval.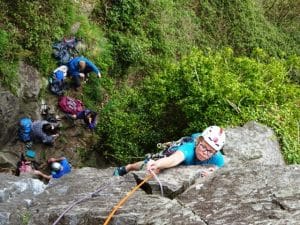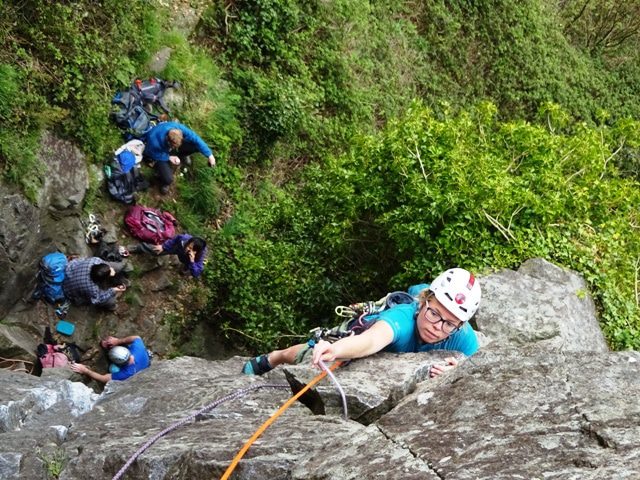 The club is always looking for new members and the President Hilary Lawrenson is always thinking of ideas to attract younger members. Once a year she approaches Universities, offering a couple of places to each, for a Meet where they share a weekend with Pinnacle club members, climbing, socialising and enjoying the hut in Cwm Dyli.
Due to pressures of work only 3 students attended – Dawn, Jessie and Milena who enjoyed an action packed weekend. I climbed with Dawn on the first day at Tremadog and we alternated the lead on 3 multi pitch routes. The second day took us to Clogwyn Cyrau above Betws-y-coed where I climbed with Milena on 3 multi pitch routes. I was able to offer coaching and technical tips to 2 already accomplished and confident lead climbers.
Saturday eve saw everyone back at the hut eating a vast spread of food – each of the 8 Pinnacle members present brought cakes, snacks, starters, 3 different mains and a blackcurrant crumble with custard to finish along with beer, wine and cider to wash it all down with.
The 3 students were impressed with the friendliness of the members, their vast experience and the beautiful setting of Cwn Dyli  – let's hope we have 3 new prospective members