The weather has definitely improved as more and more schools and colleges are taking to the hills for DofE and wild camping expeditions.
Hartpury College spent 3 days with Monsterclimbs in Snowdonia, based around Lake Bala, scaling the heights of Cadair Idris and the surrounding area.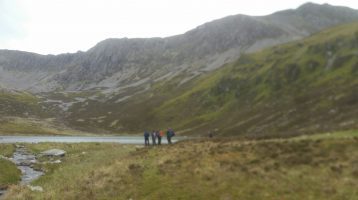 Most of the students rose to the challenge, carrying the heavy packs through driving rain, limited visiblity and steep terrain, but some found the going tough and were unable to apply a positive attitude to the situation or enjoy the experience. It is often on reflection however, that people look back on challenging experiences and see that they did achieve something positive and discovered skills and determination they didn't know they had. Groups often enjoy expeditions once they are over and wish they had approached it differently – which is a learning experience in itself.
Working with Cotham School on a 2 day DofE Practice Expedition in the Marlborough Downs was a different experience all together but challenging for the young people nevertheless – becoming self reliant and more confident
as the expedition progressed. The group of 6 girls I worked with were a delight – high spirited, determined, organised, intelligent and full of fun and enthusiasm. The staff of Cotham School particularly their leader Sarah Pearson was dedicated and professional and a pleasure to work with.
Back to Snowdonia with a Gloucester College BTEC group for a wild camping expedition along the Aran Fawddwy ridge. It began at the base of the ridge near Dolgellau – a 5km slog up steep terrain that didn't let up until the campsite appeared at the Lake at Glasgwm. It was hard going and the students had big packs but they took it steady, worked together and rested regularly to recover. Camp was set up in minutes and cooking under way. The fog closed in and as it grew dark we finished the day of with a bit of night nav – bearings and pacing basically. One group were quite keen but the other just wanted to get their heads down for the 18.5km walk the following day.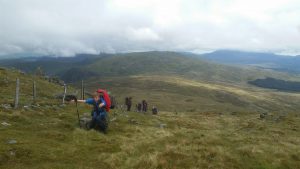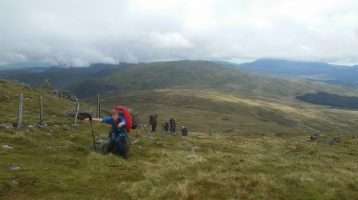 Thick fog and a steep descent set the mood for the day, which meant bearings and pacing were needed once again, but the fog cleared and panoramic views appeared. The highest point 905 m seemed to get further away but determination and enthusiasm won the day.
It was all downhill from there, well almost. The group remained positive throughout, developed lifelong leadership skills and learnt a lot about themselves particular skills and qualities they didn't know they had.
There was no denying the wild beauty of this remote area of Snowdonia. It is not a popular area and there is no dedicated path but the ever changing scenery was breathtaking and surreal. It's good to find and enjoy the peace of such exquisite wilderness.