A perfect day at Symonds Yat – warm, dry and sheltered from the wind – for a trad lead climbing refresher with Canadian Glen Brook. He confessed to having no trad lead climbing experience when we met, but had led climbed indoors. Fortunately it was a 1:1 session  so Glen got lots of input,  and opportunities to develop techniques and skills.

He quickly became familiar with the gear, how to place a good nut, what a solid cam placement felt like and how to identify dodgy rock!! He got to grips with building belays and Ali stuck to creating equalised anchors with a central point using a single rope – keeping things simple to he could take his wife and family climbing.
Glen was ready for his first lead, which he did with no preplaced gear. Ali ensured a sling was in place at the top so he could make himself safe as soon as he arrived at the belay. She then joined him on the belay after checking his gear, which was solid and well placed, to safeguard the building of Glen's first effective top rope belay – well placed, directional gear, equalised in the direction of the climb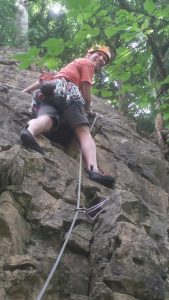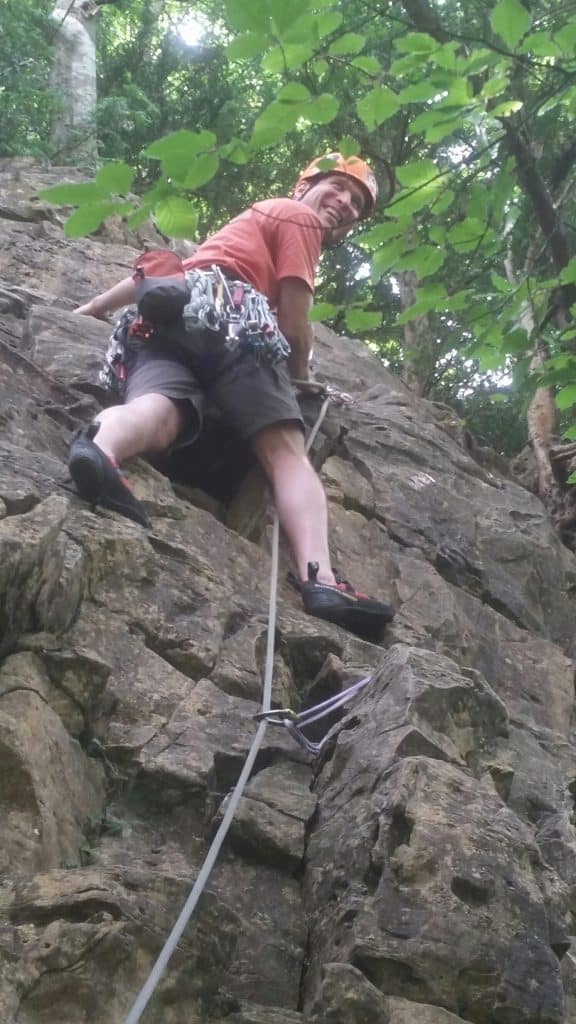 and close and tight so Glen would not be pulled off the ledge should his 2nd fall.
Glen was then taken through setting up an abseil, keeping himself safe with a prussik, how to keep others safe without a prussik and retrieval of the rope. Phew!!!
After a brief bite to eat – no rest for the wicked – it was time to do the whole process again but this time alone. A new route, new gear, different belay and this time he had to bring Ali up too. Glen was brilliant, running belays were bombproof including an excellent thread, the belay was directional and solid and rope work and rope management excellent. He set up the ab, keeping both climbers safe and returned to the ground a happy chappy.
It was time for a more challenging route; longer, harder and with a couple of definite crux moves. Once again, there was no preplaced gear and Glen climbed the route with confidence and determination, placing nuts, cams and threads as he judged best. Half way up the route he complained of his calves hurting – this was brilliant news – it meant he was climbing with his feet rather than his arms.
Glen went away with everything he expected from the day and more besides – he was an excellent student and quick to learn.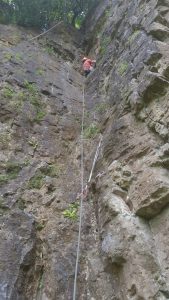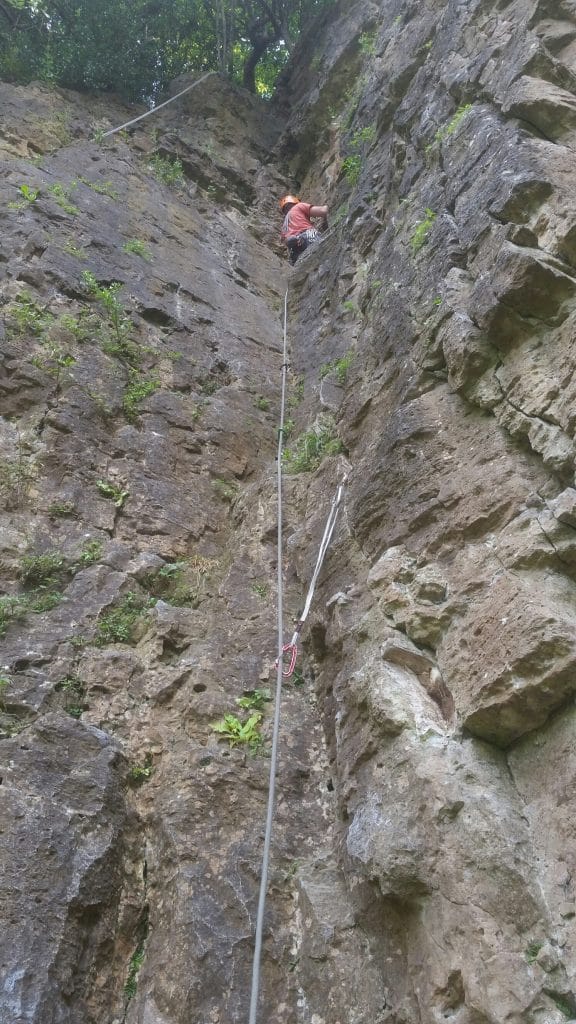 There were several incidents during the day of incompetent climbers throwing ropes down and shouting 'below' as an after thought without actually checking if anyone was below, of climbers knocking rocks off onto climbers below with no warning shouts – good job everyone had a helmet on, of climbers soloing above lead climbers, of poor rope management and poor climbing technique – it was better than warning Glen of things that can happen at a crag and what to be wary of – perfect really!!
Ali – thanks for the photos and thanks again for a great day. It was really informative and I got a lot out of it. I'll be sure to get in touch if I need any further instruction.
Cheers Glen'