A telephone enquiry led to an afternoon in the quiet company of Emily Overington and her dad Tom.

A regular indoor sport lead climber, Emily, 14, already had good climbing technique and belaying experience – she was part of a youth climbing squad and competed in competitions but Ali was surprised she hadn't been coached more on climbing technique as she had great potential.
Often climbers who start off indoors find it difficult to adapt to real rock and find the holds awkward to use or to even find. Emily took to it like a duck to water and said she actually preferred it. Ali led Golden Fleece HS 4b, talking through body position, footwork and trying to climb mainly with the legs. Emily climbed the route so effortlessly and with fluidity that Ali asked if she would like to lead the route with all the gear in place and the belay in situ at the top so all she had to do was clip in and be lowered off. She leapt at the chance.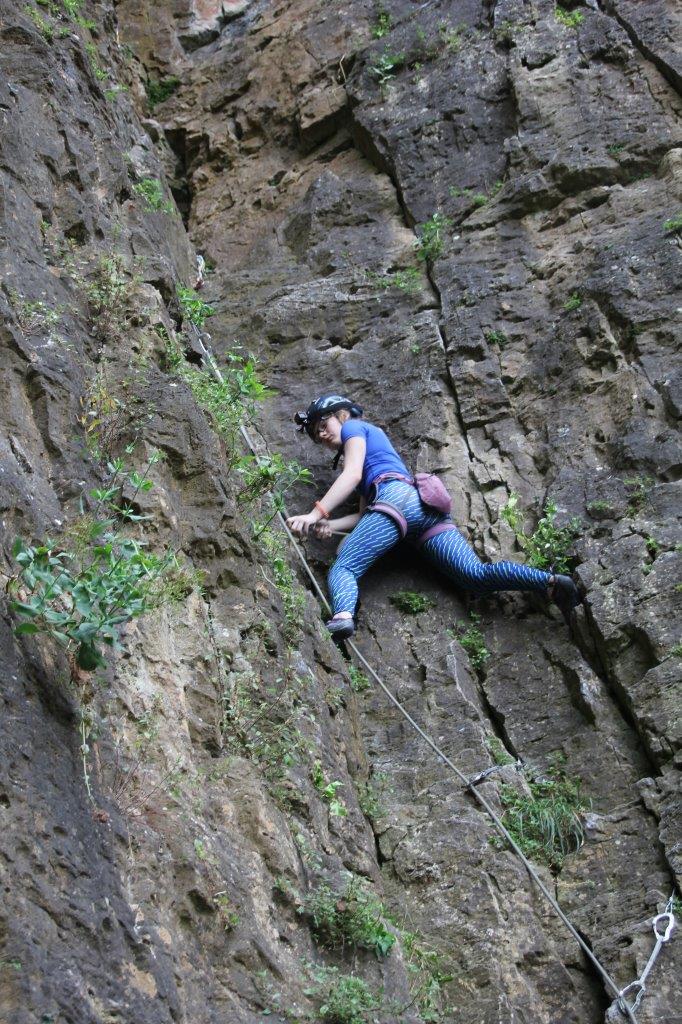 Emily found it difficult in places, as climbing on real rock doesn't always follow a specific line and you often have to find unusual positions and move above gear to complete a move, but she thoroughly enjoyed it. It was twice as long as the usual routes she led but Emily executed her first trad lead with style, with lots of encouragement, tips about footwork and body position and quiet determination.
Ali and Emily then completed a 2 pitch route at VS 4b with Ali leading and Emily belaying on a stance halfway up the climb – she didn't seem fazed at all. She was then lowered to the floor and the afternoon's excitement was finished with a VS 4c which she did well but the steep angle highlighted Emily's tendency to rely on her arms rather than her feet when the gradient changed. Her arms were a little pumped when she returned to the ground.
An amazing young lady with great potential and a love of climbing. I look forward to seeing her climbing career develop to new heights and new challenges. Both sport lead climbing and trad lead climbing are brilliant ways to climb but trad has the benefit of allowing you to pretty much climb anywhere as long as you have a trad rack, determination and can hold your nerve when you climb above your gear.

'Emily had a great afternoon and I'm so pleased that she had her first outdoor experience with someone so passionate. It certainly won't be her last. It would be really good to arrange a 2 day course in the future, maybe with one of Emily's climbing Friends.' Tom Overington