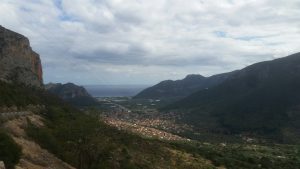 I'm not sure I should be sharing my experience of Leonidio as at the moment not many people know about it. The climbing area encircles the pretty traditional town of Leonidio. It is quite unspoilt and the climbing varied and superb. The locals are very friendly and welcome the extra income that all the climbers bring, but I'm not sure the infrastructure can cope with many more climbers without big changes at the expense of it's unique charm.
It takes roughly 4 hours travelling by car from Athens to Leonidio, half on motorway and half on the meandering coast road with stunning scenery. The weather varied from scorching humid heat to thunderstorms and pouring rain – the weather forecast was pretty useless and you have to just go with the flow choosing your crag based on the weather.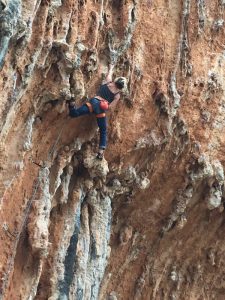 The rock is still very fresh, some is dusty but most is sharp virgin rock – good for friction but leaves your fingers in bloody tatters. Some of the routes we climbed still had drilling dust on them. The crag sectors are easy to find as there are signs in the town pointing the way and the route names are slowly appearing at the bottom of the routes.
There is such a good variety of grades and styles of climbing. My favourite venues were Theos – sharp overhanging rock and mainly long routes – 30m, Mars – did a couple of fabulous tufa routes – the best being Tufatango at 6c, and Skiadhianiko which was deep in the mountains and incredibly peaceful. The routes varied from slabs, to face climbing to steep awkward rock that was one problem solving move after another.
My favourite route had to be Kalo at Hot Rock – 37m of tough face climbing, sustained all the way with no let up. The crux was near the top and involved me leaning/falling left  onto a smooth tufa and hoping for the best whilst moving my feet underneath me in order to reach a positive hold. Not sure how I stayed on to be honest but it certainly deserved it's 6c grade.
The accommodation hasn't quite sorted itself out – many locals have jumped on the bandwagon and are asking extortionate amounts of money for very poor dwellings. It's actually best to find something once you are there and negotiate!! The Panjika cafe is a dedicated climbing co-operative and a great place to hang out.
An absolutely brilliant trip with Mick, Dan and Nigel and glad to be there in it's infancy.