It's not often that the Climbing Wall Award attracts many women. This course was an exception and exceptional – the chaps were in a minority, but it was the mix of candidates and their values that made it so. Everyone on the course was there to share their knowledge, time and experience and to learn as much as they could.

Annie has taken a career move to help others with very little financial reward, using climbing to teach young people who were disadvantaged by life in many ways.
Lorna, with a busy career, gives most of her spare time to promote Bristol Women Climbers, so women can develop their climbing experiences within an environment that is both encouraging and supportive.
Charlotte in her first year at University in Bristol, has spent many years climbing at Competition level – her technique is amazing – and wants to give something back to the climbing community and inspire others to take up this fabulous sport.
Tess is working hard to be an inspirational instructor and share her love of climbing.
Francois, a hands on father of 2 children is an extremely empathetic and personable character who gives a lot of his spare time to the Adventure Scouts near where he lives.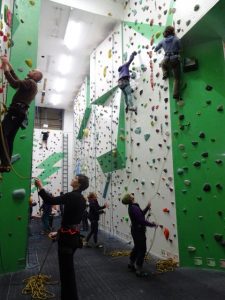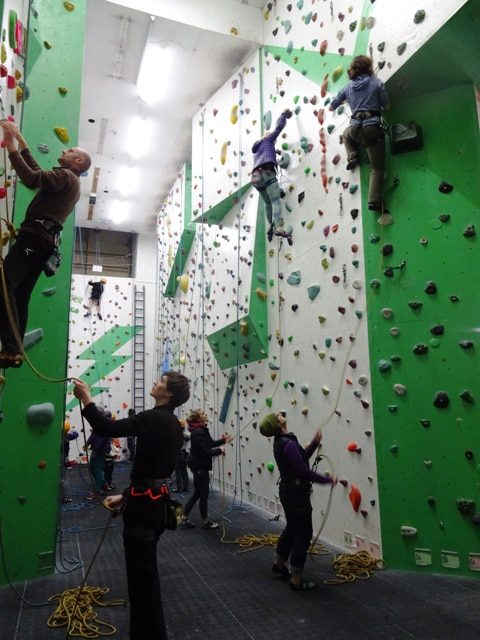 Josh is a newly promoted Adventure Scout leader who became more and more confident and vocal as the course progressed.
I have never been asked so many questions on a 2 day course, but that was a good thing, they wanted to know as much as possible, and were extremely perceptive, coming up with thoughts and ideas I'd never even thought about. They were all competent belayers and climbers but a few technical issues arose that had to be addressed and overcome. As an Instructor you must be meticulous and consistent in all that you do.
Group management is one of the most difficult skills to achieve, not only do you have to manage people, equipment, the space around and above you, but be in a position to see everything that is going on around you as well as everyone in your group. The more practice and experience you gain in your consolidation period the better for all concerned.
Managing birthday parties, taster sessions and beginner climbers of all ages require different belaying techniques and teaching strategies but must also involve lots of fun. Clients learn more when they are relaxed and enjoying themselves.
Candidates who take the CWA must visit 2 centres during the course and the UWE wall in the Sports Centre on the outskirts of Bristol
is where they looked at risk management and problem solving. It's one of the most enjoyable aspects of the course as everyone gets to role play and self belay with a Gri Gri. Of course, they also learn that most situations are preventable.
It is important when self belaying with a Gri Gri to take in and tie safety knots regularly, the Gri Gri is not a hands free device.
Our final afternoon together concentrated on movement skills, coaching technique and fluidity. Initially we concentrated on footwork determining exactly what was good footwork and how to achieve it  and coach it with clients through games and challenges. Footwork is a skill that takes a lifetime to master and improve as it is the basis of all movement.
We looked at flagging and frogging, resting and balance, straight arm technique and how to climb overhangs, how to improve stamina using circuit boards and how to use bouldering to improve power. All CWA's are encouraged to take the Fundamentals course which enables coaches to develop basic techniques.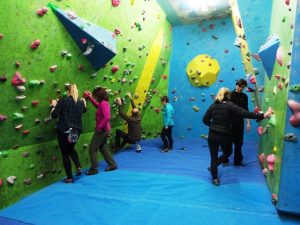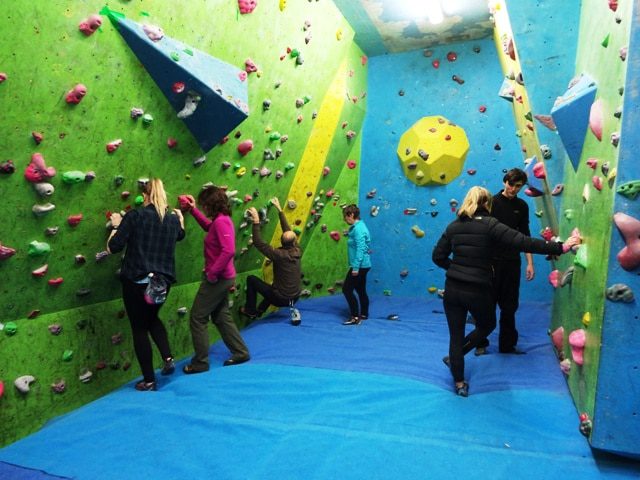 During the debrief all candidates are given a Syllabus tick list, a description of a typical assessment, what to expect on the day, and what to do during their consolidation period to ensure they have the best chance of passing their assessment.
A lot of time and effort will ensure candidates will arrive at their assessment with confidence and the ability to control and adapt to any situation.
With the motivation, enthusiasm and excellent personal qualities displayed by the 6 candidates during their training course I hope they will all become inspirational instructors.