It's a great compliment when you acquire custom through recommendations, so I was especially pleased when I got an enquiry from Christine Sluman via a colleague Dave Penrose wanting to book a trad lead course.
The weather had been wintry and cold for a few days, but the weekend of 19/20 February was set to be dry
and relatively warm – perfect. We met at Symonds Yat and spent a few minutes discussing gear then headed down to the crag to play with some. Christine and David had both played with nuts before so they quickly grasped the concept of what was and what wasn't a good nut placement. Cams, on the other hand seemed to be a bit of a mystery.
It became clearer as they began to build belays, taking careful note of the surrounding rock for any cracks or booming blocks, and then placing gear mock leading on a traverse with their feet firmly on the ground. I try to make this as realistic as possible,

with a belayer, the gear having to take the force in the right direction and all gear has to be fiddled with and placed with one hand. The gear is then tested and marked out of 10 – 5 for a downward pull and 5 for an outward pull. Both scored more than 5 for all their placements and the average was 7.
It was time to move to vertical rock and the upper tier of Waterpipe Bay and getting there is an adventure in itself. Both David and Caroline took turns leading Rootin' Toot, placing gear on the lead with no preplaced gear – their decision, built belays at the top which was in an awkward position to place, sit and belay. They then set up an abseil and returned to the ground retrieving their rope.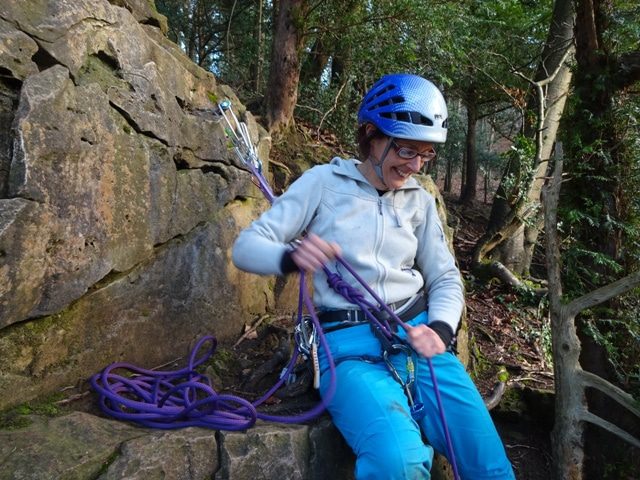 They both did well. The most difficult part is to build the belay and make sure you are tight on it so if the second falls off you are not pulled forward off the edge of the cliff. Belaying at the top of the cliff  also takes some getting used to as it is very different from any other belaying technique, you reach forward to take in the rope and take the dead rope back towards the belay ensuring you swap hands without taking your hands off the dead rope.
It was a big day, but tomorrow would be bigger still building on their skills.
Golden Fleece is a very famous route at Symonds Yat and there are often people already on it ….. but the early bird catches the worm. It is now given HS 4b – it used to be S, but over the years it has become polished and in certain conditions it can be like glass, but the great thing about this route is you can pretty much keep the weight on both feet all the way up which is perfect when you are new to placing gear.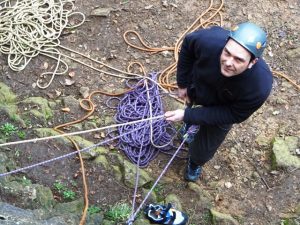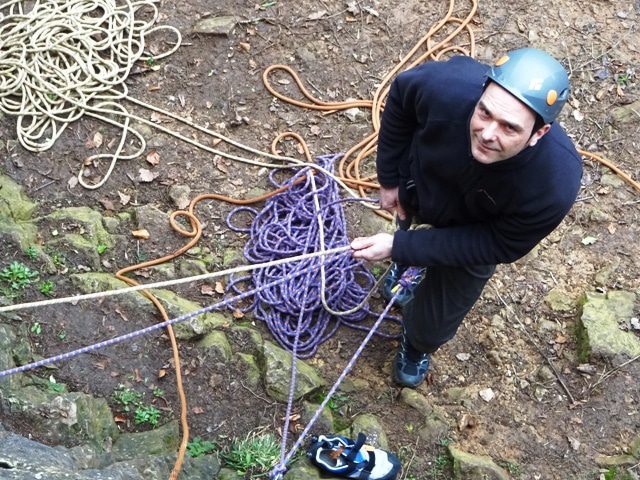 Christine was first to lead with a few pieces of preplaced gear to give her something to go for but she was determined to place her own gear and took mine out and placed it again or replaced it with her own gear. It was the first time for them to use double ropes, which can be very difficult to start – giving slack with one rope and taking in with the other whilst keeping one hand on the dead rope.
It's great for the leader though as you have 2 ropes on which to attach gear, which means in an ideal world you can put gear in on alternate sides which limits the length of a fall. It also means you don't always have to extend the gear quite so much to keep it in a straight line.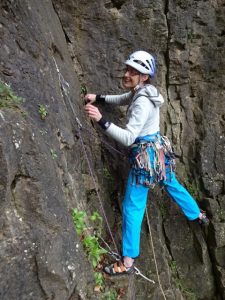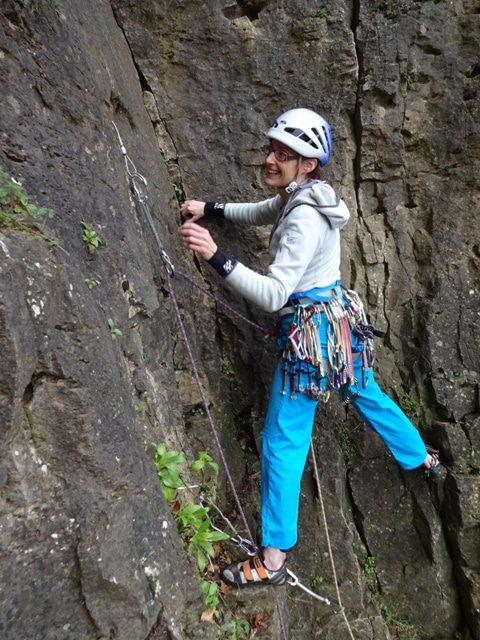 Christine was definitely the most technical climber of the two but this is often the case. Men tend to rely on their arm strength, whilst women haven't got the same upper body strength due to testosterone, red blood carrying capacity and generally bigger body mass. However, the muscles in the legs are way bigger and stronger than those in the arms and on a longer route it is the technique and use of feet which will enable you to reach the top with some juice to spare.
Christine and David made amazing progress over the course of the 2 days, placing good gear, understanding marginal gear and dodgy rock, belaying with double ropes, creating belays, organising abseils and improving their climbing technique.
They were a pleasure to teach, so positive, motivated and determined with an obvious love of nature and the outdoor environment. They have many adventures planned this year and I look forward to hearing all about them.