Having never been to Turkey I had no idea what to expect, so it was a cultural shock that was both mind blowing and humbling. Antalya is a bustling city on the edge of the Taurus Mountains and the Mediterranean Sea and the 5th most populated city, but once you move away from the city you see people living as they must have done for hundreds of years living off the land, taking only what they need and working hard. Many sell their produce at the side of the road or in shanty market places. It's stunningly beautiful.
We climbed at Geyikbayiri for the duration of the trip as there was such a variety of grades and styles of climbing, but we were also drawn to the history of the area and made use of our rest days with cultural experiences including Chimera, Kemer where there was a Folklore traditional village, Old Anatlya, Termessos and Perge – an old Roman town dating from 120 AD. It's in amazing condition and has been carefully restored and they continue to uncover atrifacts and reconstruct pillars and buildings. It's huge.

Crags are easily accessible from the road but sometimes it is easier to go back down to the road and walk back up if you change crags through the day. You can choose sunny or shaded crags pretty much any time of the day, and even if it rains there are lots of opportunities to climb.
Crags and favourite routes included: Barbarossa – Barbarossa 5c+, Brazil Carnival 6a+, Magara -Muhtar 6a, Nirvana 6b, Ottoman – Ronotaurus 6b, Ala Daglar 6c,  Poseidon – L'Empire Contre Attaque 6b+, Tacoz 6b+.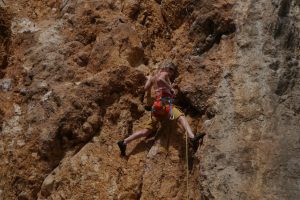 Geyikbayiri is at 600m above sea level, so there is still snow on the nearest mountains even in March and April, and if the weather turns cloudy it can be very cold, especially if the wind picks up.
There is ample accommodation available in the area and is much cheaper in the climbing season as opposed to the tourist season. Ensure you find accommodation on the west side of the city to avoid having to cross the city to get to the climbing.