More people than ever, and especially women are heading outside to try
climbing for real and finding it so much more exciting than indoor climbing. The Women's Trad Festival has just celebrated it's 3rd meet in The Peak District, which was sold out in the first 3 minutes as the demand for places was so great. It's such a great way to meet people too and begin a lifelong partnership with such an interesting and physical past time. There is often an interesting and steep approach to the climbing venue too, with beautiful scenery and wildlife and no coloured blobs to pave the way. 

Moving outdoors is a steep learning curve as everything is different. It is more difficult to read the rock, the footholds are not as obvious, the weather conditions can change the friction of the rock and the body is allowed to move in a more natural way.
Family days come in all shapes and sizes, parent and a single child, parents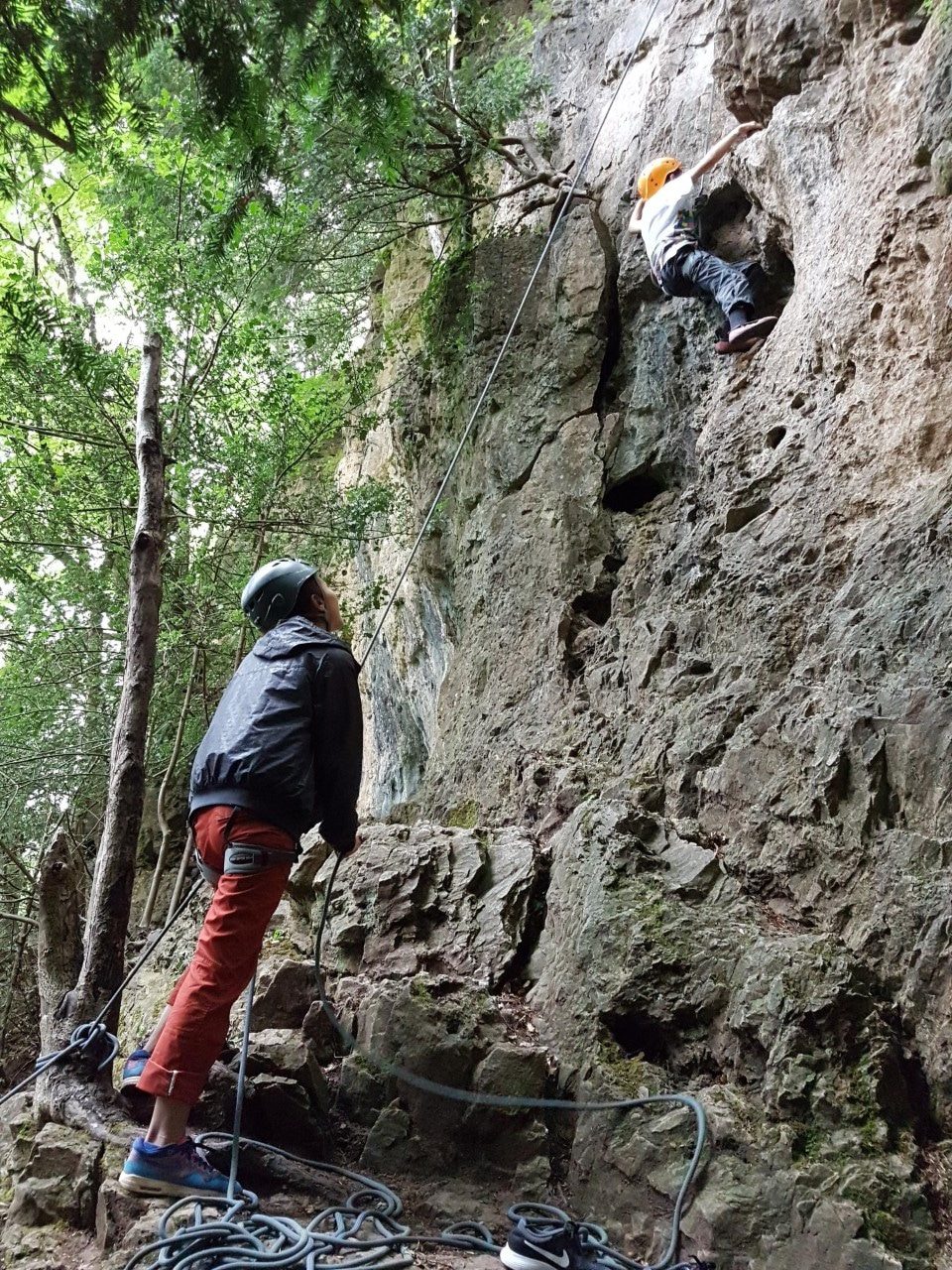 and a single child, parents and several children. The greatest advantage in the outdoor situation is children are able to belay their parents using Grigris and direct belays so weight difference isn't an issue and it means children can learn to belay too in a safe and controlled manner as all the weight is transferred to the anchor – often a big sturdy tree.
Teenagers are also keen to go beyond leading indoors and sport climbing and take up Trad lead climbing. It is a more complex form of leading and includes many different skills which must be taught in isolation, practised in isolation then in more challenging – physically and mentally – situations. It requires a great deal of concentration and physical fitness and is better to start with easy climbs even if you can on sight 8a indoors.

Climbing outdoors is so much better for your climbing technique too, you are not restricted to specific holds that are set to someone else's morphology. You can use any foot or hand hold and your footwork will improve greatly as you can keep your feet underneath you for most of the time, taking small steps which enable your legs to do the work. High steps and pulling hard with the arms are not efficient ways to climb.
If you want to learn to climb outdoors as a beginner or as a family group don't hesitate to contact Ali or check out the calendar for courses. You can book a bespoke course if you cannot find a date that suits.