Costa Blanca has the most reliable winter weather in the whole of Spain as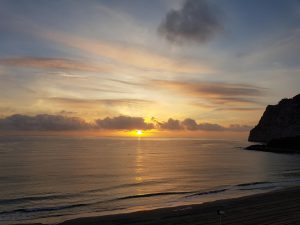 well as having a huge variety of rock climbing which makes it one of the best climbing areas in Spain. It is never too hot and rarely does it rain which is why Ali runs such successful climbing courses here.
There are climbs of all grades which means it is suitable for beginners, intermediate and advanced climbers and the temperature is so pleasant that the muscles, soft tissues and bones work efficiently and there is less chance of injury. And, if it does get too hot you can always climb in the shade.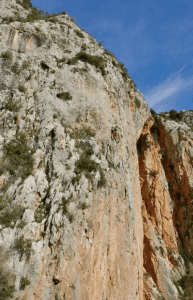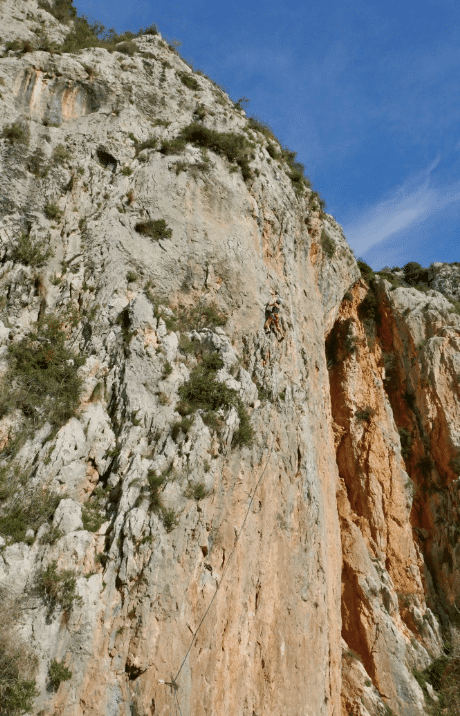 There are also many opportunities to trad lead climb especially in the Val de Guadar, with many lower grade routes where you can learn and develop the skills to become independent trad lead climbers. There are also many multi-pitch trad routes here as well as on the Puig Campana. These are big days out.
There is also multi pitch sport at most crags, although it is good to carry a small rack as some routes are not as well bolted as some climbers would like. The Penon is a great venue for sport climbing but some of the easier routes have become polished with overuse and it is advised to carry a trad rack to fill in the blanks.
However, there is so much more to experience. New crags are being developed by the locals, often in obscure places hidden away which are not in any guide books. The rock is clean and sharp and a dream to climb. It is only local knowledge and years of interaction with Spanish climbers that enables you to gain access to such wonderful places.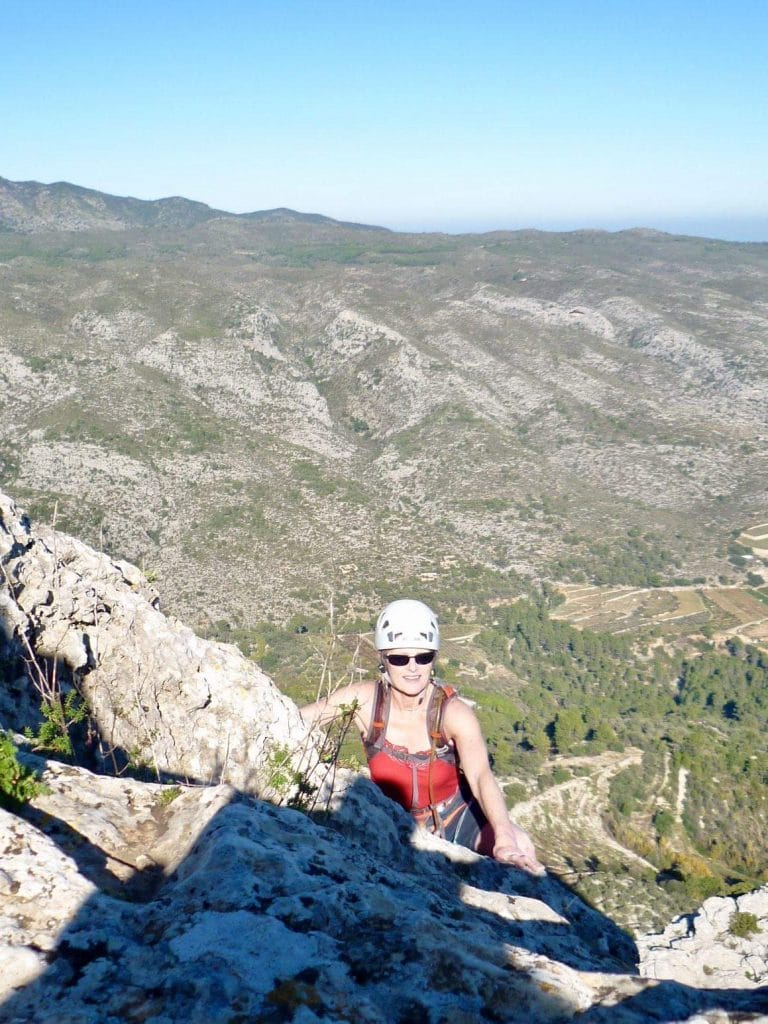 But it doesn't stop there, there are countless ridges to climb, or be guided on. Some are well documented like the Bernia Ridge and El Realet Ridge in the Castellets but there are countless others like the Arister al Forat de al Forada near Pego with it's  exposure and dramatic view of the mountains. It's a big drive to get there, a bit of a walk up, but nothing harder than 4+, Severe, on this trad protected ridge. There are bolted belays on every pitch and the climb finishes with a dramatic abseil through a natural arch.
There are also numerous Via Ferratas in the area and it's difficult to find any information, probably because they are a serious undertaking. They allow you to access areas of a huge crag via staples and cables. Some of them are very steep and you require a high level of upper body strength.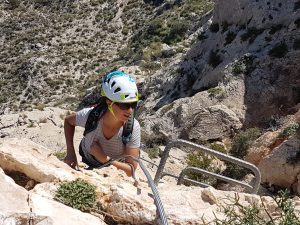 You also need a harness, helmet and a Via Ferrata kit. However, you also need an extra sling to clip in with. It is better to do them with a guide who will have the correct equipment and knowledge. If you fall off and the Via Ferrata tape deploys you will fall the length of the cable you are on plus the length of the tape. There was a serious incident recently where a couple couldn't find the abseil and improvised.
Having said all that, it is a fabulous experience and you are moving all the time especially if you have someone with you who knows what they are doing.
And if all that doesn't excite you, you can always do a Baranc, which is a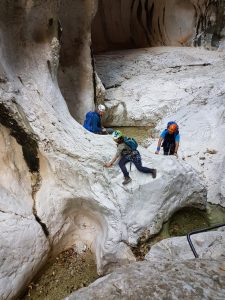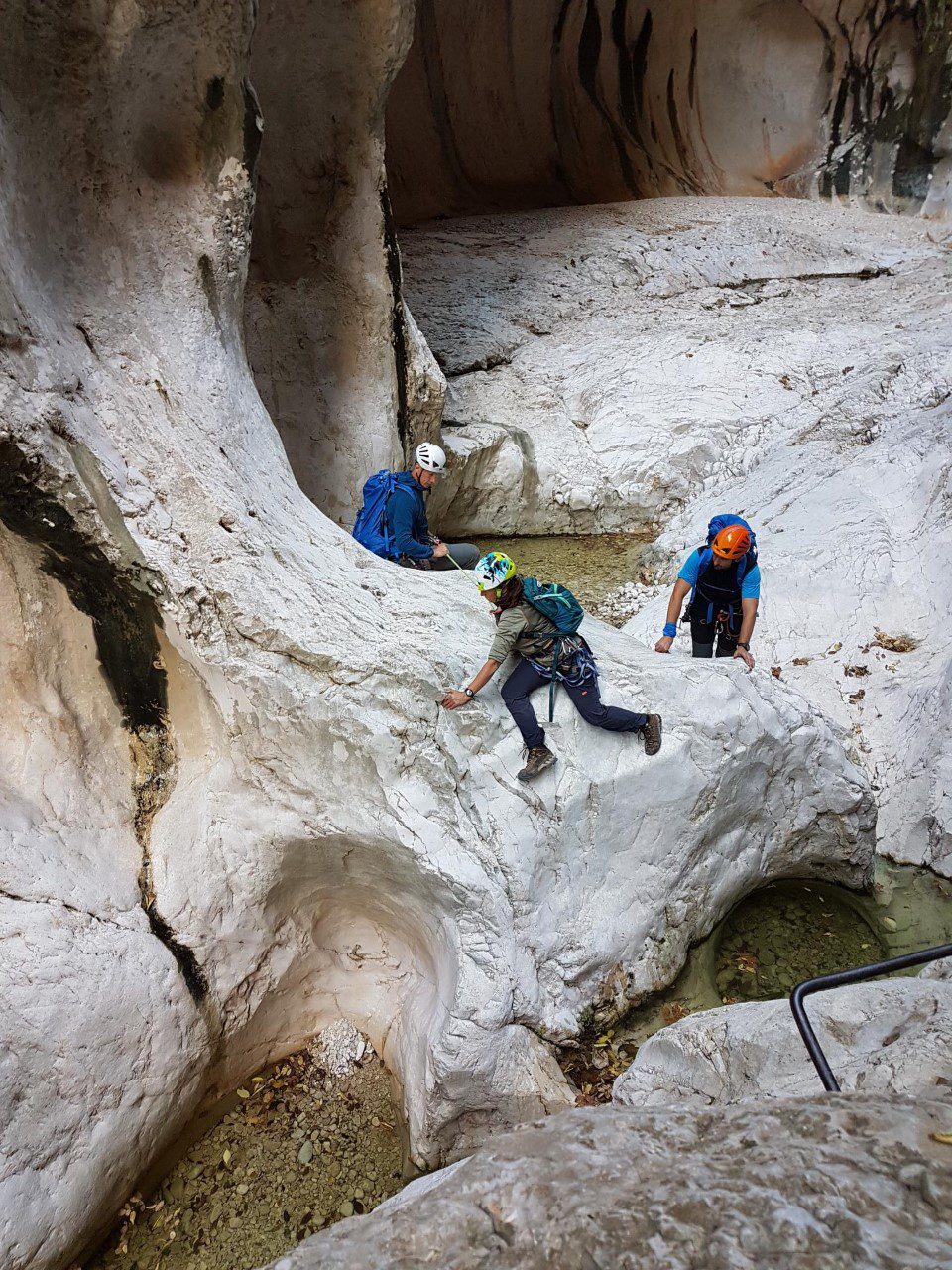 dry (almost) gorge scoured deep into the ground. They are one way only, if you get into difficulty there is no going back. It involves scrambling, abseiling and traversing and should only be attempted with a guide or someone who has completed the Baranc recently. The conditions can change dramatically and should never be done after recent heavy rain or when rain is forecast. We had a few deep pools to negotiate and the plank that enabled crossing of the deepest pool was missing so we had to come up with a cunning plan.
Climbing and adventure courses will take place next year during December 2019 and January 2020, minimum of 2 people, maximum of 4 for quality of instruction.
Accomodation will be at a self catering apartment overlooking the beach in Calpe on the north side of the Penon with shops and restaurants close by. At only £10 per person per night this is great value for money. Please check the events calendar for dates. You can however book a bespoke course by contacting Ali directly alikat65650@hotmail.com.