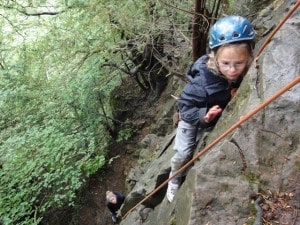 Family or group days are Taylor made to make you feel comfortable and safe in the indoor or outdoor environment. Groups are kept small to ensure everyone has quality instruction with equipment to suit every shape and size.
The days can be children only, family days including parents or a group of friends, hen or stag parties. Ali Taylor trading as Monsterclimbs holds an AALA Licence so children do not have to be supervised.
All equipment will be provided. Participants will learn:
How to put on a helmet and harness correctly.
How to fit and use specialist climbing shoes.
How to belay safely using a Gri Gri belay device.
How to climb like spiderman using good footwork and pushing with the legs.
How to climb by transferring weight from one foot to the other.
Learn how to use static and dynamic balance.
How to lower safely and slowly
How to adopt the safe lowering position
On Outdoor days you will also take an exciting journey to and from the rock face and will stop for lunch so everyone can make use of the facilities including the cafe at the Peregrine look out. Maximum of 9 people to ensure quality instruction. Venue: Symonds Yat or The Warehouse, Gloucester. See the Calendar for dates available. You can book a course at any time during all School holidays and some weekends. Cost: £60 per person – £40 each for under 14's – minimum 2 people includes use of all equipment and entry to the climbing centre. Meet at Symonds Yat or The Warehouse at 10 a.m, finishing at 4 p.m. 10% discount for group bookings. Lunch either at the Yat or The Warehouse is not included.
Family/Group Days can be booked as bespoke courses. Please contact Monsterclimbs if you wish to book a private course for your family and/or friends.