Climbing in Spain is one of the best ways to improve your climbing technique and grade. The weather is pretty reliable; warm and sunny – shorts and t-shirt weather. This means your muscles warm up quicker, you get lots of Vitamin D and any aches and pains you have tend to disappear in the warmth of the Mediterranean sun.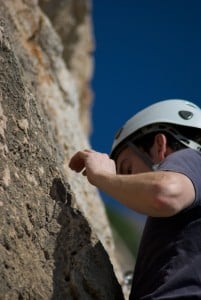 Clients must have some prior experience of sport lead climbing, their own harness, shoes, chalk bag, belay device and helmet. Quick draws and ropes will be supplied.
Maximum of 6 people – £600 per person. Price includes accommodation, 6 days of instruction and transfers to and from Alicante airport. Clients must arrange their own flights from their country of origin.
The holiday will be based in Calpe, in self catering apartments within the town of Calpe with good shopping, restaurants and cafe facilities. There is also a lovely beach close by, and the climbing is in the Costa Blanca guide book. See client articles Costa Blanca Climbing -Rocks! New Year teaching in Costa Blanca', 'Winter Climbing in Spain 2010' and 'Spanish New Year on Costa Blanca Rock', Costa Blanca – Rocks as well as many other blogs for further information and pictures.
Venues include The Penon, Sierra de Toix, Pena Roja, Gandia, Alcalali and Sella.