The great thing about pole dancers is they already have excellent upper body strength, great flexibility, good core
strength and strong firm thighs  – so the transition to bouldering was inevitably straightforward.
Everyone seems to associate pole dancing with scantily dressed individuals who gyrate erotically around a steel shiny pole. This is not necessarily the case, especially when you are doing it to keep fit. It is one of the most physically demanding forms of exercise you could undertake and yes you have to be scantily dressed to do some of the amazing inverted handless tricks as you need skin to pole contact to keep you in place.

The secret to climbing well is good footwork; having silent, precise feet, concentrating on putting all the weight on the big toe which allows you to pivot, with good dynamic balance and the ability to transfer weight from one foot to the other to allow you to move.
Flagging, frogging and drop knees are more advanced techniques that keep you in balance and bring your centre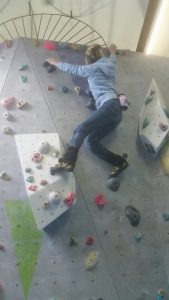 of gravity over the base of support whilst conserving energy and making your movements more efficient.
One of the most energy saving techniques is to climb with straight arms, and at the same time twist the body and bend the knees, this ensures all the weight is on the feet. Having bent knees means you can push and straighten your legs rather than pull on your arms. If your arms are straight you are hanging on your bones rather than the muscles in your arms which is far more efficient. Many new climbers find this technique difficult to master. It seems instinctive to pull with your arms, but the muscles in your arms are small when compared with the muscles in your legs. Think about the movement when you are walking up a set of stairs, how the weight is transferred to the leading leg and the muscles kick in to straighten that leg so you can lift your free leg to the next step.


It is inevitable that you get tired at some point, whether traversing or ascending. Having straight arms will help, as well as having efficient and precise footwork but if you can find a place to rest, where you can shake out the arms to lessen the effects of lactic acid or better still get a no hands rest. Anywhere you can use opposing forces such as corners and chimneys, but if you are quite flexible you can get a rest in a rock over or frogging position if you get your balance.
Bouldering is great fun, especially if you go with a group of friends, and you only need a pair of climbing shoes and a chalk bag. Some people do it in their training shoes but if you want to improve you need a comfortably tight pair of climbing shoes. A 2 hour session with Ali at either The Warehouse, Gloucester, or Undercover Rock, Bristol costs £20 including entry for the whole of January. See Calendar for upcoming courses.